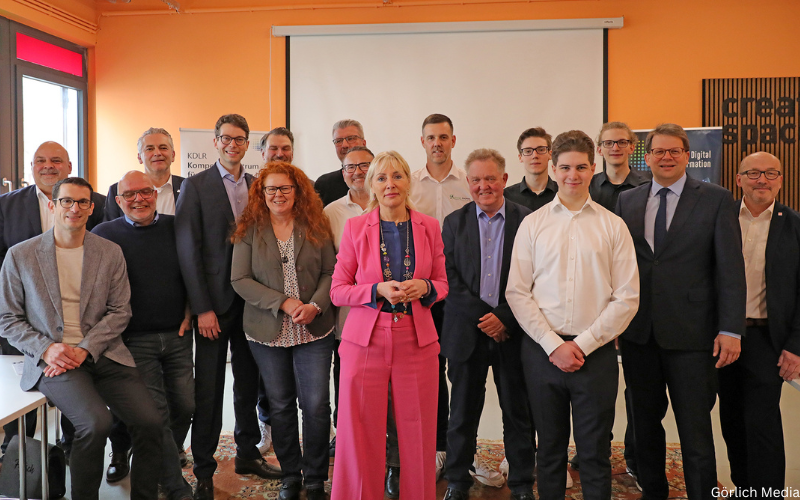 On the 24th of March 2023, the Minister for Digital Strategy and Development of Hessen, Prof. Dr. Kristina Sinemus, visited the innovative start-up "Green Aureus" in the Co-KARL coworking space in the former Kerber department stores. The young start-up presented its blockchain-based software solutions for the sustainability sector. Around 25 other guests from the political and business sectors participated in the event to learn about the environmentally friendly technologies of the start-up, which combine safety and transparency in supply chains with the opportunities for voluntary CO₂–neutralization.
The event provided an excellent opportunity to discuss the importance of digital solutions in the fight against climate change and to highlight the role of blockchain technology in this context. Green Aureus showcased its innovative concept and its three key pillars for the implementation of digital climate solutions on a large scale.
The participants showed great interest in the solutions presented and exchanged ideas about the opportunities and challenges associated with the integration of blockchain technology in the sustainability sector. The visit of the Digital Minister highlights the importance of Green Aureus's approach and contributes to raising awareness about the role of digital technologies in climate protection.
"As our IKT-study proves, Hessen is a strong and dynamic location with good conditions for the information and communication industry, this is especially true for start-ups", said Digital Minister Prof. Dr. Kristina Sinemus. The state of Hessen aims to further develop digitization across the state. "We will become the Silicon Valley of Europe here," said the minister.

The Three Pillars from Green Aureus in detail:

1) Easy CO₂-compensation through e-commerce integration Green Aureus develops special plug-ins for the e-commerce sector that enable consumers to reduce their carbon footprint automatically. By integrating these plug-ins into online shops, both customers and online shop operators can easily make an active contribution to climate protection.

2) Hello Green Friends: The platform for effective CO₂-management and a sustainable future The platform offers a user-friendly solution for offsetting CO₂-emissions by providing digitally verified carbon credits. With "Hello Green Friends", both individuals and companies can achieve their sustainability goals on the path to Net Zero. The blockchain-based platform enables transparent and efficient carbon management while helping to build a global community for environmentally conscious practices. Through education and motivation, Hello Green Friends promotes greater environmental awareness and helps to integrate climate protection into people's everyday lives. In this way, the platform creates a solid foundation for a sustainable and prosperous future.

3) Transparent supply chain and carbon credits Green Aureus relies on the digitalisation of supply chains to enable a transparent product passport to verify ESG claims. This helps to make a real impact on climate protection and avoid greenwashing. At the same time, the start-up supports producers in optimising the shopping experience of their customers through sustainable value-added services. With the help of QR codes on product packaging, consumers can easily access detailed product information and redeem carbon credits.
For this event, Green Aureus calculated a CO₂-footprint of 271.8 kilograms, which was subsequently offset.

"I firmly believe that our approach represents significant value for society. By combining innovative technologies and sustainable practices, we are making an important contribution to combating climate change and creating a prosperous future for generations to come," says CEO and Co-Founder of Green Aureus GmbH Frank Schwab.
"On a local and supra-regional level, the development of Green Aureus GmbH is supported by the Competence Centre for Digitalisation in Rural Areas (KDLR), a project of the House of Digital Transformation e.V.. Together with the local partners Zeitsprung e.V. and Region Fulda GmbH, as well as through Hessen-wide networking, a positive environment has been created in East Hessen to support future tasks such as environmental and climate protection with technological start-ups," says Marco Ziegler Community Manager from the Competence Centre for Digitalisation in Rural Areas (Fulda location).
With the introduction of blockchain-based software solutions, Green Aureus is creating an environmentally friendly solution to accelerate the fight against climate change. The company thus enables a simple, automated and financially beneficial method to advance climate protection and secure a prosperous future for all.

Further reports:
> Osthessen News
> osthessen-zeitung.de
> fuldainfo.de
> petersberg-aktuell.de